Entering the transfer moments between the old and the new year, the earth and people seem to be more fresh and bustling than ever. If you are cherishing your intention to travel to Danang during this Lunar New Year occasion, let Maximilan Danang Beach Hotel reveal the must-try list of activities when traveling to Danang – the outstanding beach city!
1. Take part in the extreme exclusive events
a. 2020 TULIP FLOWERS – an event to overwhelm people who love beauty
The festival with the largest scale ever with 1.5 million tulips, Ba Na put on a splendid shirt like never before. In a warm and romantic space, Ba Na Sunworld in early January is ready to conquer people who love beauty.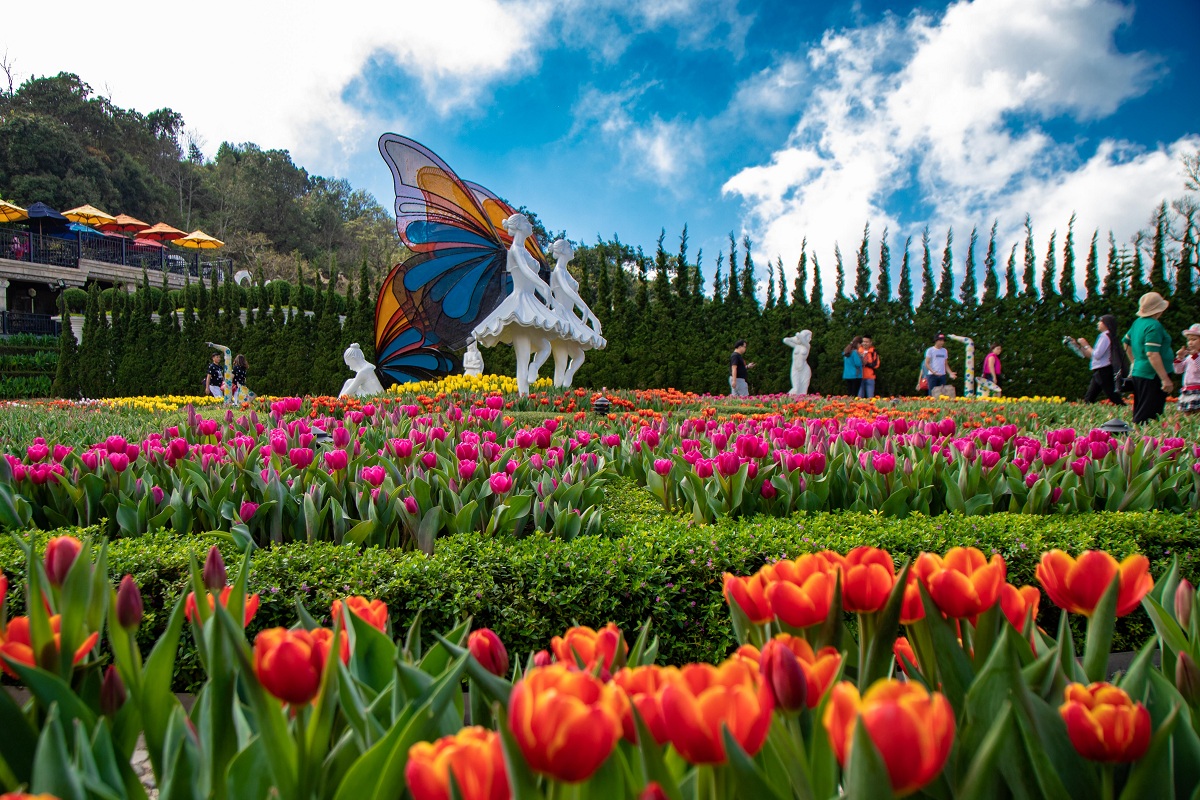 b. TIGER REMIX 2020
The policy of building an energetic Danang city, only in January 2020, there are continuously 3 large-scale music events. Tiger Remix 2020 is a highlight that can not be ignored in this unique series of music events.
Get ready to celebrate a spectacular festive season with TIGER REMIX 2020 – exploding aspirations – welcoming the beginning of the year.
Danang hotels welcome the new year with many special events. From organizing interesting visuals at photobooths, light tea-break parties, exciting in-house guests … to large-scale parties such as Wedding Fair, Year End Party, party Countdown waits for the new year …
d. ANNUAL CELEBRATIONS FOR HAPPY LUNAR NEW YEAR 2020
As usual every year, on New Year's Eve, Danang city organizes fireworks to welcome the new year.
Investing in each spot with 1,000 high-altitude fireworks and 500 low-altitude fireworks, Da Nang is expected to wait for the new decade in light and sublimation. Standing on the Sky Bar to admire the spectacular fireworks display is one of the great ideas. You can refer to the beach hotel owns the best Sky Bars in Danang here.
1. Have fun at the hottest tourist amusement destinations
Asia Park is one of the leading amusement parks in South-East Asia and a must-visit attraction in the first day of the year in Danang.
The park opens from 3:30 PM to 11:30 PM every day of the week with an admission ticket of 200,000 VND / ticket for adults and for children are 150,000 VND / ticket. With more than a lot of games, from light indoor games to thrilling games, the park is an ideal destination for many young people and families with young children.
b. Upside Down House
The upside down house in Danang has 10 different themes, from the living room, bedroom, classroom, kitchen to toilet, laundry room and mini-mart, … All of which are "turned over", bringing You a whole new world.
c. Hoi An Ancient Town
Hoi An Ancient Town is located in the coastal area of ​​Quang Nam province, 30 km from south of Danang. Hoi An is not only attractive to local people but it is also a special destination for international travelers.
Coming to Danang during Tet Holiday, tourists can visit the ancient town of Hoi An to immerse themselves in the space of the old period and explore the unique culture of this time. Besides, you also have the opportunity to experience many delicious dishes such as Cao Lau, Quang noodle, pancakes and many other specialties.
If you travel to Danang with your lover, refer to TOP of the best 4-star hotels for couples here
Please note the things to do when traveling to Danang during the Lunar New Year 2020 that we have suggested. If you are still wondering about the accommodation when exploring this beautiful city of Danang, Maximilan Beach Hotel Danang  is one of the top 4 star hotel
Contact to book now and schedule a trip to Danang!
Maximilan Danang Beach Hotel
Add: 222 Vo Nguyen Giap, Son Tra, Danang
Tel: +84 236 3 798 799
Email: info@maximilan.com.vn
Website: www.maximilan.com.vn
Link đặt phòng: https://bit.ly/2MfZj4B