Year-end is the occasion for mass organizations to organize parties, conferences, and summits. Follow Maximilan Danang Beach Hotel to discover TOP 10 hotels with the best conference rooms in Danang right now!
Maximilan Danang Beach Hotel is the first place to be mentioned when you intend to organize special events. The 4 stars hotel Maximilan has many outstanding features to help you organize the conference better.
Been located on the road from the city center and My Khe Beach beautiful, Maximilan Danang Beach Hotel is extremely convenient for moving to another location. Lounge conference width wide, suitable for placing photobooth, standee, rising brand identity for businesses.
The conference rooms at Maximilan Hotel is designed modernly and luxuriously, with a capacity of more than 200 guests and is covered with wood and carpeted the whole carpet – increasing the class for important meetings.
Moreover, the equipment – modern sound and light system will make your meeting more professional. Besides, the attention and special dedicated caring will make your meeting more wonderful than ever.
Maximilan Danang Beach Hotel
Add: 222 Vo Nguyen Giap, Phuoc, Son Tra, Danang, Vietnam
Tel: +84 236 3 798 799
Email: info@maximilan.com.vn
Website: https://maximilan.com.vn
The 4-star hotel Nhu Minh Plaza is one of the next ones with many features suitable for those who intend to book a conference.
Nhu Minh Plaza's conference room is designed with an eco-chic style with the promise of up to 300 guests; both are equipped with modern sound and light systems. 
NHU MINH PLAZA DANANG HOTEL
Lot 2 – A2 – KH Pham Van Dong, Son Tra District, Danang, Vietnam, 550 000
02363 555 666
info@nhuminhplazahotel.com
HAIAN Beach Hotel has launched a year-end banquet package with only VND 350,000 /person.
This package combines the highest quality services including modern conference rooms which can accommodate up to 200 guests, full equipment, sound and lighting system.
Furthermore, the staff who are ready to serve you anytime and anywhere will surely help the conference, training, meeting take place smoothly and successfully!
Address: 278 Vo Nguyen Giap, Phuoc My Ward, Son Tra District, Da Nang
Phone: (+84) 2362 22 8 666
Email: info@haianbeachhotelspa.com
Website: www.haianbeachhotelspa.com
Fanpage: www.facebook.com/HAIANBeachHotelDanang
It can be said that this is a 4-star hotel with one of the quite good conference space in Da Nang. Excellent quality rooms, equipment modernization, and the pack promotion comes as attractive as set menus from only 200,000 VND and BBQ Buffet only from 350,000 VND, free installation of the back-drop, down 50% setup system sound system, free Karaoke service, free 1 beer or soft drink unit – will be a great conference!
Contact:
Address: No. 6 + 8 + 10 Do Ba, T20 Beach, Da Nang.
Phone: +84 236 3 747 888
Email: info@ciciliadanang.com
Website: www.ciciliadanang.com
5. AVATAR Danang Hotel
The meeting and conference room – at 4-star AVATAR Hotel is an ideal place for companies to organize conferences, seminars or contract-signing ceremonies, thematic meetings, conferences, events and exhibitions in Danang.
AVATAR Hotel has all kinds of meeting – conference rooms and master the most suitable layout, meeting the number of attendees, forms.
6. Furama Hotel Danang
Been located on the most beautiful coast in central Vietnam, the award-winning super beautiful resort and gateway to 4 World Heritage sites; Hue, Silk Road, My Son, Phong Nha Cave. Furama Danang is an ideal venue for conferences, seminars, and events.
Furama Danang designs two international conferences with large conference rooms accommodating from 1,000 to 2,500 guests, along with auxiliary function rooms equipped with modern facilities, advanced equipment, This is an ideal place for businesses and corporations to organize seminars, conferences, and events.
7. Sheraton Grand Hotel Danang
With a flexible event space with a total area of ​​up to 3,300m2, event experts can choose from a variety of outdoor, pool, or beach options to organize outdoor activities full of inspiration.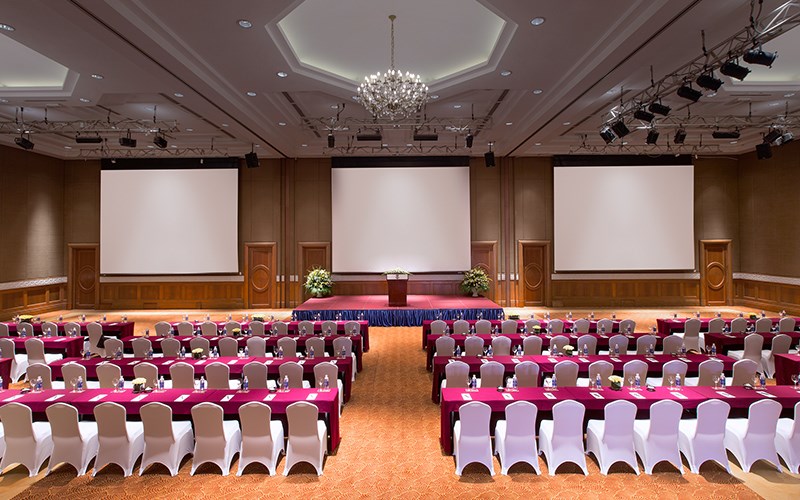 Also, the conference rooms, seminars are equipped with advanced audio and visual systems, optimal design flexibility, meet the diverse needs of customers.
8. Novotel Danang Premier Han River
Novotel Danang Premier Han River is a hotel with 5 conference rooms; Special seminars can be separated or expanded, fully equipped with modern equipment, advanced with the most professional sound system, projectors. Novotel Danang Premier Han River strives to bring meticulous detail in every detail, for events large and small that customers are assured of sending.
9. Naman Retreat Hotel
Naman Retreat is a rare hotel in Da Nang that combines harmonious Vietnamese heritage and timeless culture with the elegance of contemporary architecture. The conference rooms here with a capacity of 50-300 are also a suggestion for customers if they want to organize conferences, seminars, events …
10. Hyatt Regency DaNang Hotel
Hyatt Regency Danang has a conference room system with an area of ​​up to 900 m2, a 500 m2 lobby area fully equipped with the most modern equipment and the most professional staff to serve seminars, conferences, major events, both on and off the beach.
With the list of 10 hotels with the best conference rooms in Da Nang above, do you have any choice? If you're still wondering, pick up the phone and call Maximilan Danang Beach Hotel right away so we can prepare the most spectacular banquets, conferences and meetings!
Maximilan Danang Beach Hotel
Add: 222 Vo Nguyen Giap, Phuoc, Son Tra, Danang, Vietnam
Tel: +84 236 3 798 799
Email: info@maximilan.com.vn
Wesite: https://maximilan.com.vn