As the wedding season approaches, many couples start searching for places to enjoy their honeymoon. In particular, Da Nang is one of the first names that many people are interested in. Together with Maximilan Danang Beach Hotel, let's take a look at TOP10 best hotels for couples if you intend to stay in this beautiful city.
Been located at Vo Nguyen Giap street just a few steps from My Khe beach, Maximilan owns a convenient location for you and your loved ones to enjoy the sweet sea breeze full of romance.
With outstanding advantages such as seafront view and many outstanding services such as Spa, Gym, tropical style bar, top-notch infinity pool, room service, shuttle bus … Maximilan is the best choice for couples to enjoy any honeymoon.
You also explore the diverse and wonderful food menu with delicious combo sets right at the Sky Bar with a view that embraces the beautiful curves of My Khe beach.
Besides, you can also find out TOP hotels with the most beautiful infinity pool in Danang right here.
Currently, the beach hotel Maximilan is developing many special offers for couples. Come and enjoy now!
Contact us for reservation now!
Maximilan Danang Beach Hotel
Add: 222 Vo Nguyen Giap, Son Tra, Danang
Tel: +84 236 3 798 799
Email: info@maximilan.com.vn
Website: www.maximilan.com.vn
Located in the TOP 5 rated best on Tripadvisor, the 4-star HAIAN Beach Hotel & Spa not only attracts customers with its modern, eye-catching architecture, excellent service quality but also because this is the location. It is very suitable for couples to enjoy wonderful moments on their trip.
You can also experience the convenient services such as floating tray, healthy combo, unique beverage menus … right at the infinity pool of 4-star HAIAN hotel. Surely, this will be a bright place for you to keep complete happy moments with your loved ones.
Address: 278 Vo Nguyen Giap, Phuoc My Ward, Son Tra District, Da Nang
Phone: (+84) 2362 22 8 666
Email: info@haianbeachhotelspa.com
Website: www.haianbeachhotelspa.com
Finding a place to stop while visiting the beautiful scenery in the coastal city of Da Nang, Cicilia Danang Hotel & Spa is a quite interesting idea. Located in the emerging tourist road – Do Ba, Cicilia Beach Hotel owns a convenient location for visitors to both visit the beautiful landscapes, immerse yourself in the cool water and enjoy the epidemic. room service and class quality!
Couples can enjoy the Han River view room for 2 people, airport pick up and drop off, welcome drink upon check-in, romantic honeymoon dressing room with fresh flowers and fruit for reservation, dinner At the light of the candlelight at the Sky Bar, get a bottle of red wine and more. With these offers from the hotel, couples can have more choices for their honeymoon.
Cicilia Danang Hotel & Spa
Add: No. 06 + 08 + 10, Do Ba street, T20 beach, Danang city
Tel: +84 236 3 747 888/ 0905 994 678
Email: info@ciciliadanang.com
Website: www.ciciliadanang.com
Nhu Minh Plaza Hotel Danang is located between Pham Van Dong street and the famous My Khe beach and the city center. With a stunning view of the sea and a river of the city from above, gives visitors an enjoyable and full travel experience for business or leisure guests. Comfort services include OAK Spa & Nails, gym, kids club and special indoor pool to make Nhu Minh Plaza Danang an ideal choice for couples.
You will find the most relaxing and comfortable at Nhu Minh Plaza Hotel Danang. As one of the best quality 4-star hotels in Danang near the beach, our living room offers views of the mountains, the city and the sea, bringing romantic romance to you. With comfortable beds, all-white sheets and thoughtful amenities accompanied by luxurious romantic honeymoon packages, creating comfort and will definitely make you come back to us. !
NHU MINH PLAZA DANANG HOTEL
📍Lot 2 – A2 – KH Pham Van Dong, Son Tra District, Danang, Vietnam, 550 000
☎️ 02363 555 666
✉️ info@nhuminhplazahotel.com
🌎 https://www.nhuminhplazahotel.com
5. Pariat Hotel & Apartment
Located right at the heart of the city center on Bach Dang street – the most beautiful road in Danang next to the poetic Han river with a view straight to the Han River promises to give you a wonderful holiday. From here, couples can see the bustling city with unique bridges of Danang. This is an ideal place for visitors to experience great moments.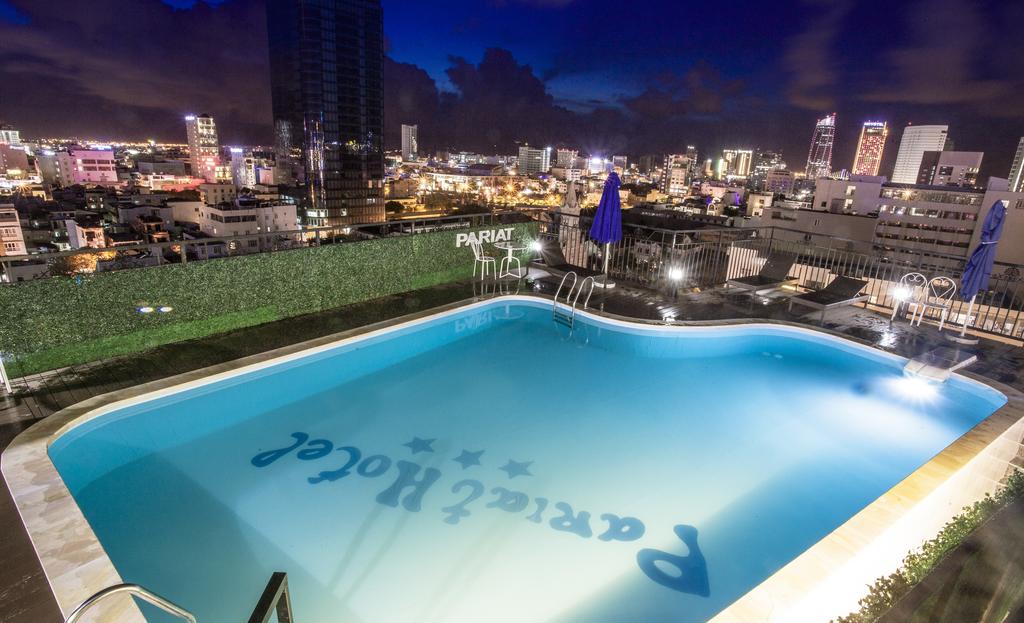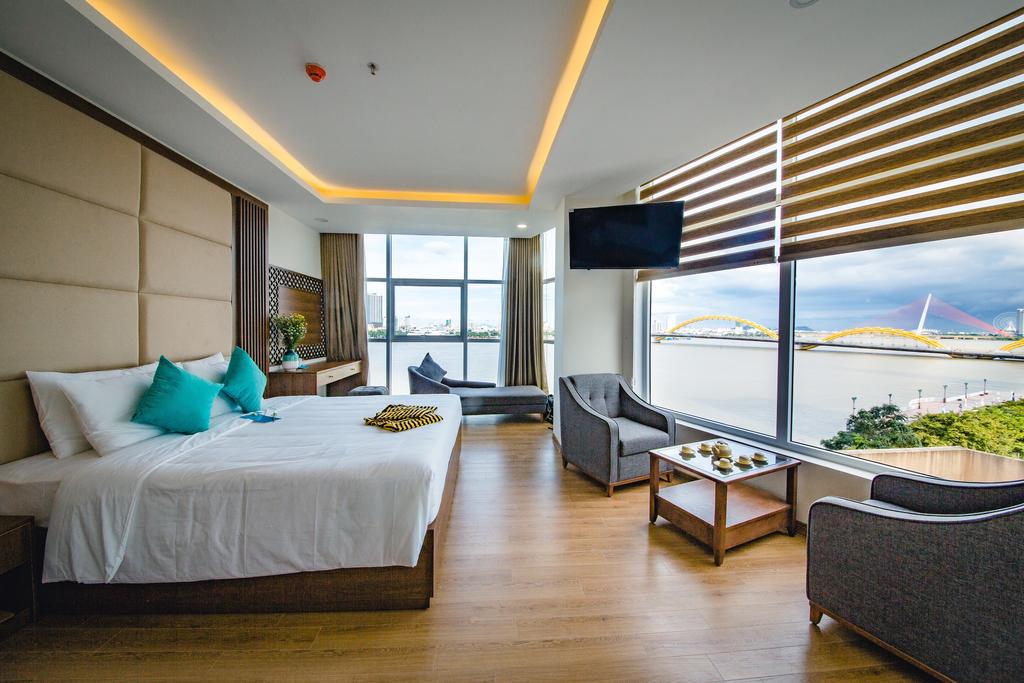 6. Avora Hotel
Located in the central district of Da Nang city, in a beautiful location on Bach Dang street, located on the romantic Han river, right in the heart of Da Nang city, AVORA hotel is designed with unique architecture. , modern and high-quality facilities. From the prime location of the hotel, you can enjoy the panoramic view of the coastal city of Da Nang with famous bridges with bright art lights at night or stroll around the central shopping streets, famous attractions as well as major entertainment centers.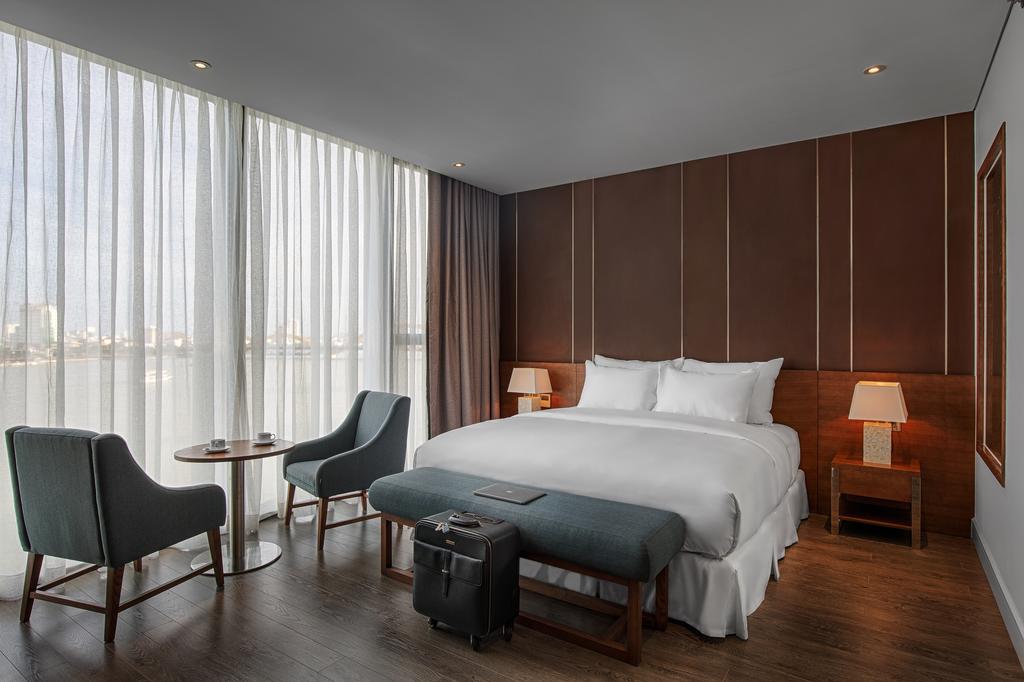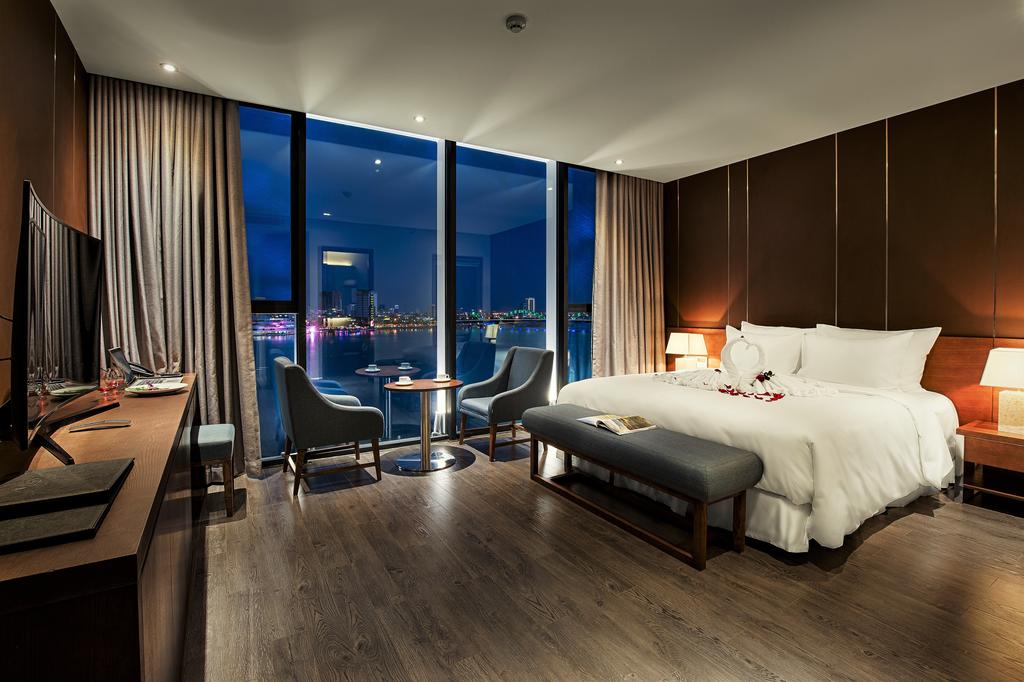 Come to Danang but having no idea to go, you can refer here:
7. White Snow Hotel
Located in the heart of Danang, here the perfect place to experience Danang and its surroundings. Only 0.3 km from the city center, the hotel's beautiful location ensures guests can visit the tourist destinations quickly and easily. Besides, the hotel also offers you entertainment activities to ensure you are always interested during the holidays.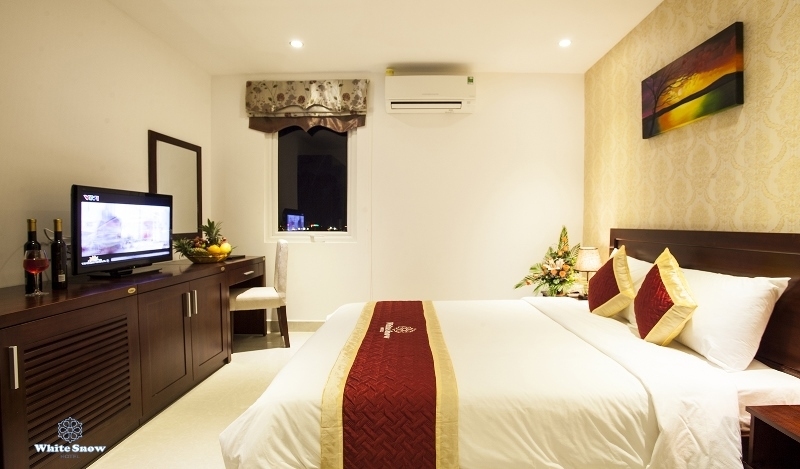 8. Monarque Hotel Danang
Located a 2-minute walk from the beach, just a 2-minute walk from My Khe Beach, Monarque Hotel Danang offers accommodations in Da Nang.
Featuring free Wi-Fi access throughout the property, this hotel offers a rooftop pool, spa and fitness center. Each room is equipped with a flat-screen TV, air conditioning and private bathroom, slippers, free toiletries and a hairdryer.
9. Novotel Danang Hotel
Another hotel with a unique location and beautiful view is Novotel Danang Premier Han River. Novotel is located on the west bank of the Han River to create an extremely romantic and airy space, creating an indispensable romance for couples who want to relax with their loved ones.
This is the first hotel of international standard of the city, managed by the famous Accor Group. This 4-star hotel is 37 floors high and has more than 300 rooms, quality, and facilities. Modern Novotel has received many compliments from visitors.
10. Grand Gold Hotel
Grand Gold Hotel is a 2-minute walk from the beach, located in Da Nang, with free use of bicycles and a seasonal outdoor pool. This 4-star hotel offers air-conditioned rooms with a private bathroom.
It features a 24-hour front desk, a shared lounge, and a ticket service, all rooms are equipped with a bathtub, free toiletries, flat-screen satellite TV, Blu player. -ray and desk. Some rooms have kitchens with dishwashers, ovens, and microwaves suitable for young couples who want to enjoy their own homemade meals for their lovers.
In order to make the honeymoon trip more interesting in Da Nang city, do you have a place for yourself? If you are still wondering, Maximilan Danang Beach Hotel is a good choice. Book now to make the fun more exciting than ever!
Maximilan Danang Beach Hotel
Add: 222 Vo Nguyen Giap, Son Tra, Danang
Tel: +84 236 3 798 799
Email: info@maximilan.com.vn
Website: www.maximilan.com.vn